Our Promise...
All of our products are plant based and contain NO plastic. They are certified to ensure that under proper conditions, 100% will turn into organic, nutrient rich soil that can be used to grow our future food supply.
Product Description
1. Eco-Friendly Dinnerware: Host an event, impressing friends with earth-conscious dinnerware, while making cleanup easy with these compostable plates or have an intimate family get-together celebrating not having to do the dishes.
2. All-Natural Alternative to Paper Plates: Made of organic and renewable natural fiber material from sugarcane pulp called Bagasse, these plates are very sturdy and durable. The natural coloring gives the plates a stunning look that is perfect for picnics, barbeques, camping, and other outdoor functions both formal and informal. It also makes for a great alternative to paper plates and foam plates.
3. Microwaveable and Freezer Safe: The plates are microwaveable and freezer safe, however, they are not dishwasher safe.
4. Biodegradable & Compostable: Protect Mother Nature by making an ecological purchase that will benefit both you and the environment. This biodegradable, carbon-neutral dinnerware set is less harmful to the planet.
Product Details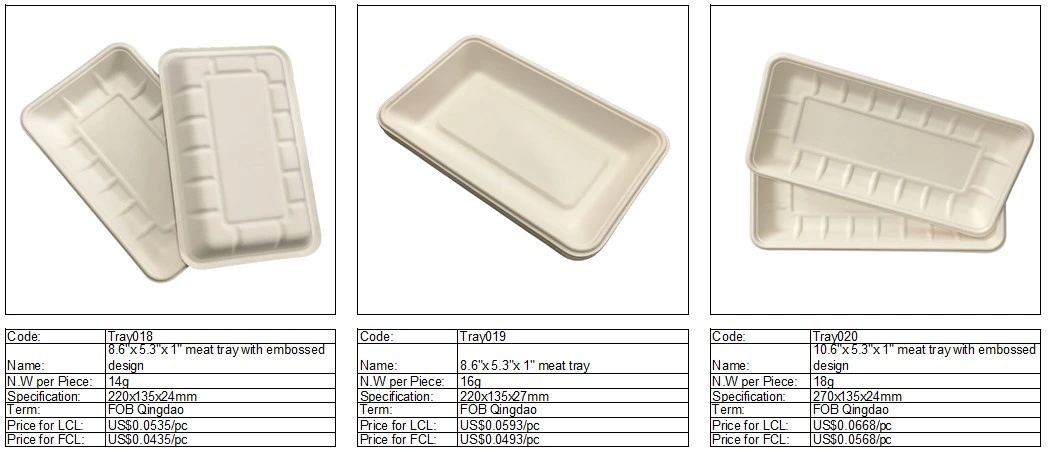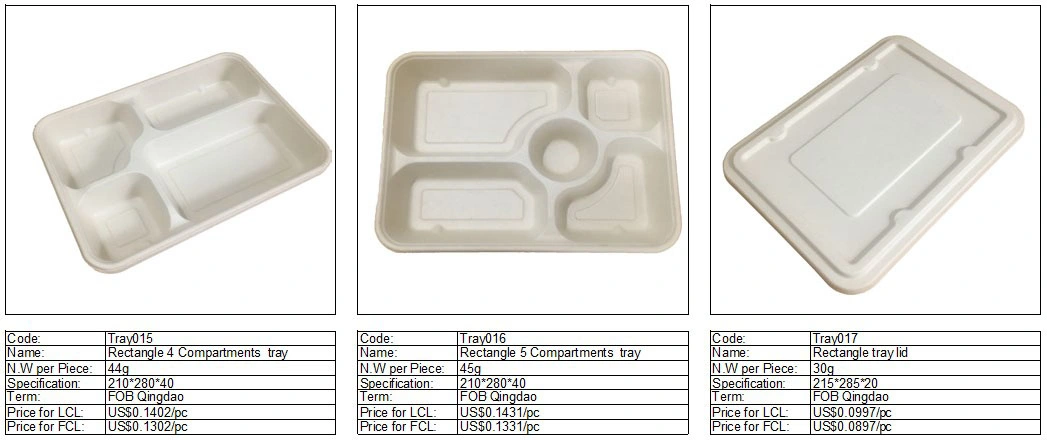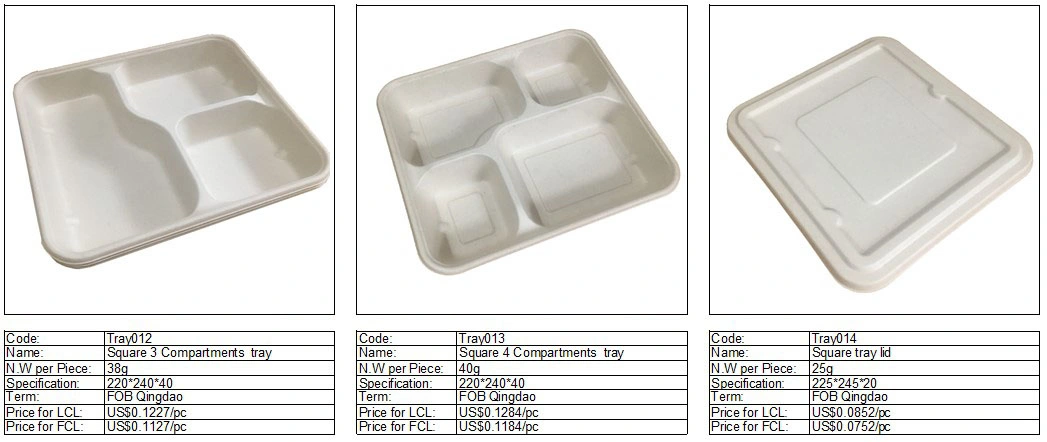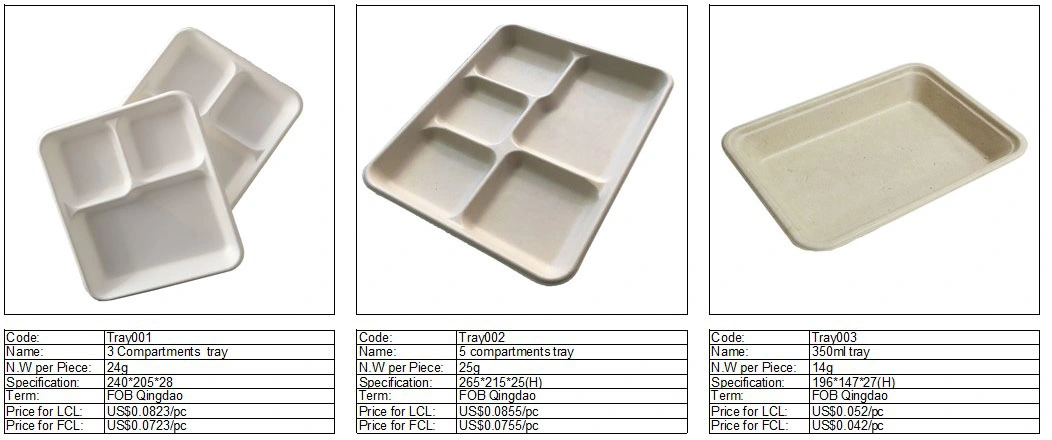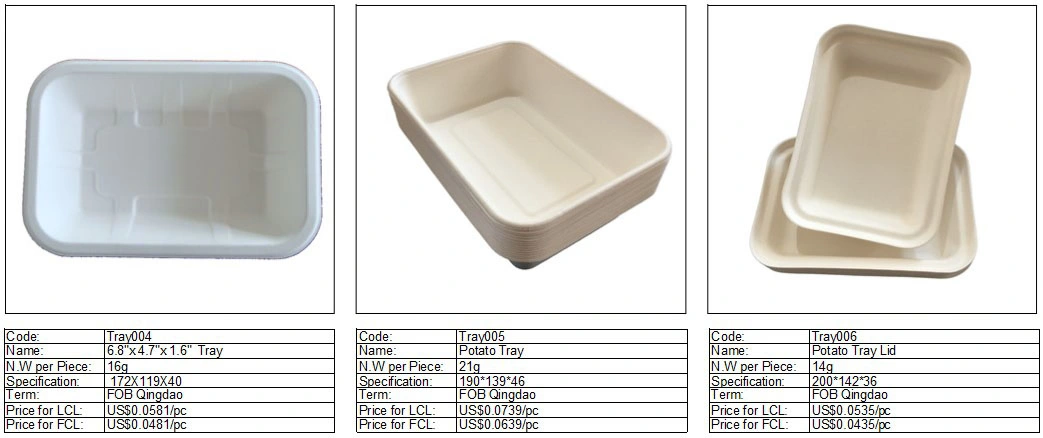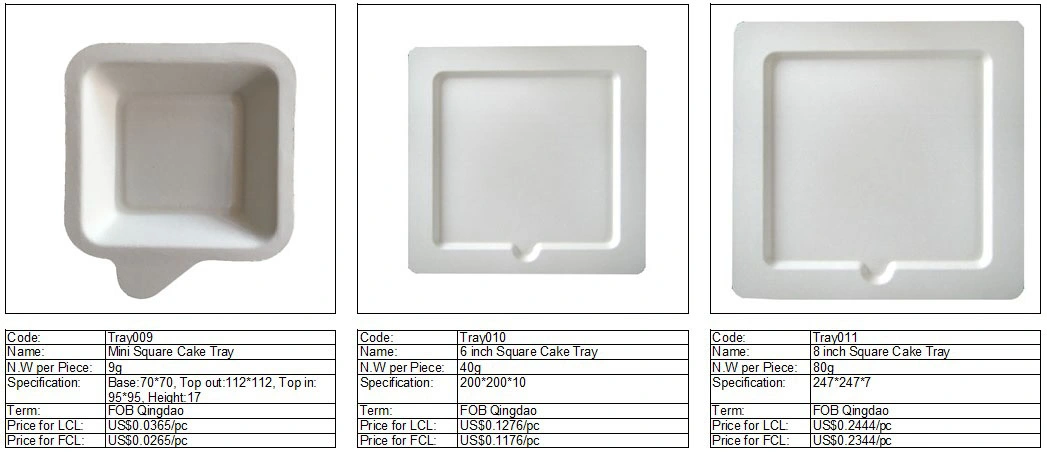 Technical Data
No.

Test item(s)

Unit

Standard requirement

Test result(s)

Conclusion

1

P

b

m

g/Kg

≤3.0

0.5

Passed

2

A

s

m

g/Kg

≤1.0

not detected(≤0.4)

Passed

3

Formaldehyde

mg/Dm²

≤1.0

not detected(≤0.6)

Passed

4

Fluorescent(254nm)

cm²

Negative

No Fluorescent Spots within 100 cm²

Passed

5

Fluorescent(365nm)

cm²

Negative

No Fluorescent Spots within 100 cm²

Passed

6

Total migration(4% acetic acid, 70ºC, 2H)

mg/Dm²

≤1

0

2

Passed

7

Consumption of potassium permanganate(60ºC, 2H)

mg/Kg

≤40

11

Passed

8

Heavy Metal(Index of Lead, 4% acetic acid volume fraction,60ºC, 2H )

mg/Kg

≤1

<1

Passed

9

Coliform Bacteria(/50cm²)

Negative

Passed

10

Salmonella(/50cm²)

Negative

Passed

11

Mold

(CFU/g)

≤5

0

<1

0

Passed

12

Natural Decomposition

d

ay

<90

Passed

13

Laboratory Decomposition

d

ay

<180

Passed
Certificate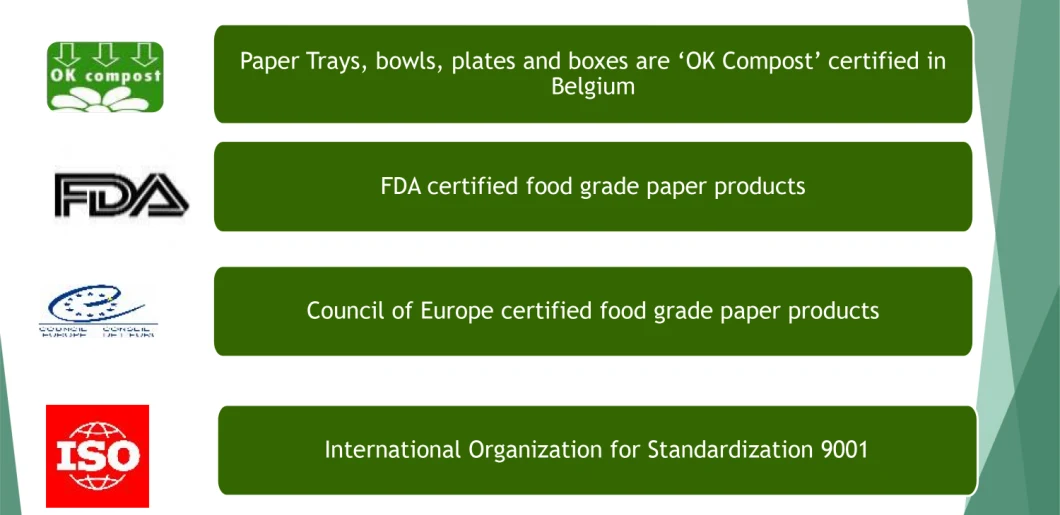 Our Company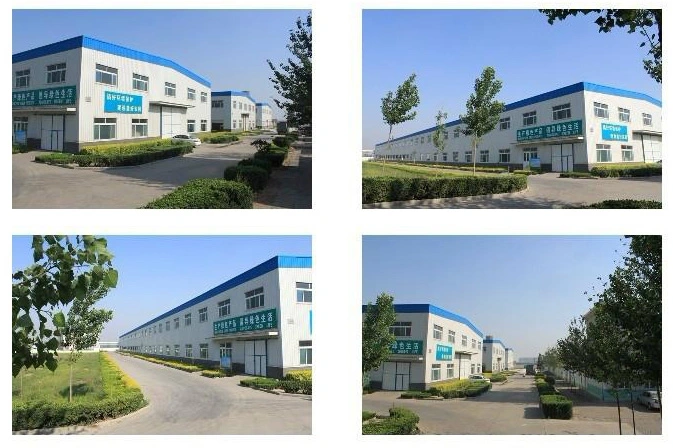 Our Service
1. Your any question will get quick response.
2. First-class QC procedure, on-time delivery.
3. Free samples are available.
4. Customized designs, sizes and package are acceptable.
5. Fellow up and feed back continuously during order processing
6. Provide real pictures of loading container.
7. Price term and payment are negotiable.